It's July
!
Ahhhh . . . . my favorite month of the year.
I
LOVE
July. I love the holidays spirit of July and feel so fortunate to be able to celebrate all month long starting with the festive season centering around the 4th of July, and finishing off the month with a love of heritage and pioneer ancestors with the 24th of July celebration which is A BIG holiday here in Utah.
I love to fly the flag!
I love to drive through my little hometown and see the flag lined streets. It makes me remember each time how grateful and proud I am to be an American. How blessed I am to live in this country of freedoms with its potential for great and wonderful opportunities (as well as the problems that the freedom of opposition of these opportunities create.)
I love parades.
I'm always been an attender of parades. So many fond memories of parades of my younger days. Watching the big floats go by, I love a good marching band. I even love the crowds and excitement of the parade atmosphere, everyone jockeying for position, craning above the crowds as each decorated entry passes by. Sitting in the sun with dripping popsicles from the little boy who wove through the crowd pulling a cooler in a red wagon.
I love fireworks.
I've been known to go sit and watch firework displays all by myself because I just can't pass up the opportunity. Ahhh . . . just the thought makes me tingle with excitement. I remember the glow on my little ones faces when as young children they enjoyed the wonder of little homegrown mini firework displays in the street in front of the house. Now as adults it means the bigger, brighter and tremendously awesome city displays at 4th of July community affairs accompanied by Neil Diamond and Lee Greenwood blasting at 10,000 megawatts. Did I tell you I'm a party person at heart!
I love the Pledge of Allegiance
.
When was the last time you said it?
I don't get that opportunity enough these days. But while walking last week I happened along the elementary school "last day of school retire the flag for the summer ceremony" and stopped to pledge my allegiance with the elementary school little ones. It was a breathtaking moment for me and I seldom can make it through the pledge or national anthem without a tear in my eye and an thrill in my heart.
I'm grateful for this great country, grateful to have this special month to celebrate.
I hope you all make wonderful memories this July.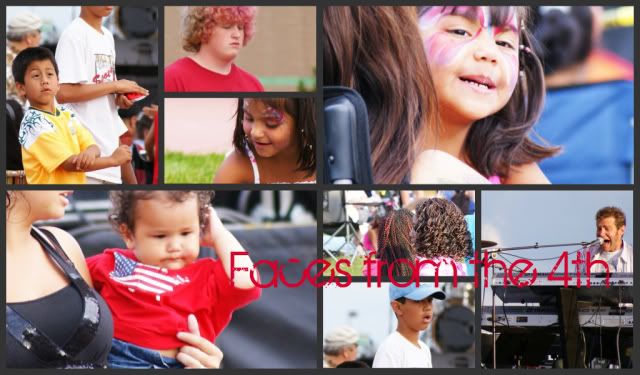 (A glimpse at the random FACES from our 4th)