Nope . . .
Not like Christmas . . .
A Wedding!
There I was just sewing away trying to complete 30 quilt blocks for Karianne's quilt in the next 24 hours when my doorbell started ringing and the dogs started to go wild.
Yay! It was the UPS man and the FED EX man. You know, it's crazy when they get to be pretty important men in your life . . .
Yay! I love packages and packages were arriving! That's what you get when you try to do a wedding by ordering everything online. And so far I must admit it's working pretty well. I'm just thinking of all the stores I didn't have to go to looking for the right tulle, ribbon and picking up photo enlargements. (Thank you
Joy,

who is currently in Denmark, I'm so envious
, for the efavormart.com link, it's been a BIG hit, as has been papermart.com and weddingdepot.com - I'm developing a totally dependent relationship with those companies this week).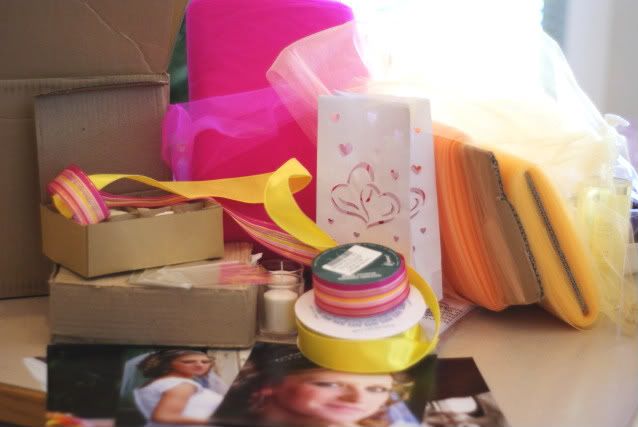 Oh! And the invitations are finally in the mail (except for the few I'm still working on ;~) Here's a sample - I think they're kinda cute.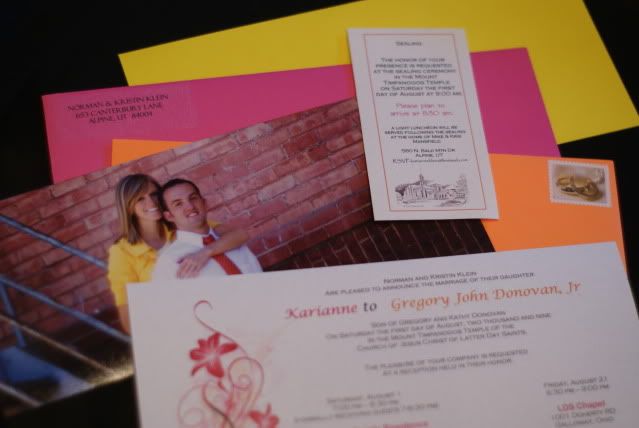 Only two and a half weeks until the big day, it's getting close!