If it takes a village to raise a child (and I certainly know that my little village has been influential in raising my children) then it certainly takes a village to pull off a wedding.
I couldn't be more grateful to my wonderful friends and family members who were so much help in making Karianne's beautiful wedding such a success. I love each one of them so much and couldn't begin to truly express my appreciation. There were so many . . . how could I even begin to count.
There were many miracles that occured along the way that I am so appreciate of my loving Heavenly Father who sent his little angels at just the right time to make this such a special time for our family.
Like the 'miracle of the quilt'. Once upon a time there was this mother of the bride who just 4 days before the wedding barely finished piecing 30 quilt blocks and had no hope of having the quilt completed before the wedding. One lovely friend appeared, took the blocks, arranged them, sewed them together, cut and added the borders, pieced and sewed the back together. Then a wonderful grandmother and aunt appeared, put the quilt on the frame and begin quilting the blocks. All the while the mother of the bride was completely occupied with greeting the family of the groom and making final wedding arrangements. The night before the wedding at 11:00 pm there was a little knock on the door and three more friends appeared with nothing better to do than come visit, laugh, tell stories and of course - quilt.
At 2:30 am, they finally left for home after completing all the quilting that needed to be done so the quilt could be loving displayed at the reception, a beautiful representation of all "the village" that know and love Karianne and support and bless our family.
This is just one story, there is also the miracle of the 300 party favors completed by Karianne's aunt and cousin, the miracle of the 300 napkins and utinsel preparation that appeared in a lovely basket put together by two of Karianne's other cousins, the miracle of the 45 pounds of cooked and shredded chicken for the chicken salad by an aunt and grandma, the forgotten walnuts that needed to be carmelized that were completed by the grooms wonderful mother, the miracle of the friends who hosted a beautiful luncheon in their cool and shady yard, the neighbors who contributed service and all their possessions to create such a beautiful day, the miracle of the blooming sunflowers, the gorgeous raspberries, the perfect weather, the much missed son and daughter in law arriving just when we really needed to see them, all the "rest of the village" who accomplished many miracles in my kitchen and enabled the reception to run so smoothly.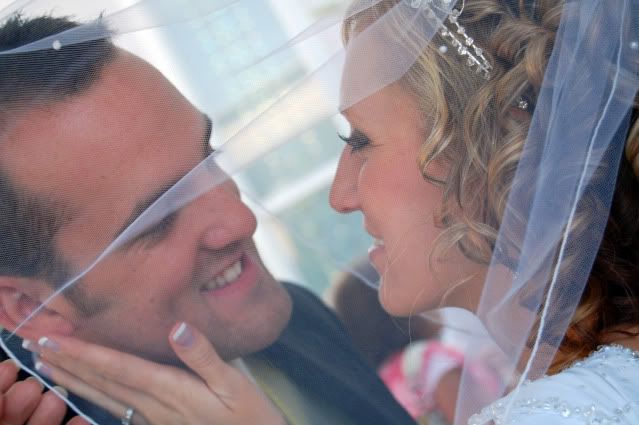 No . . . I never really can thank them enough . . .