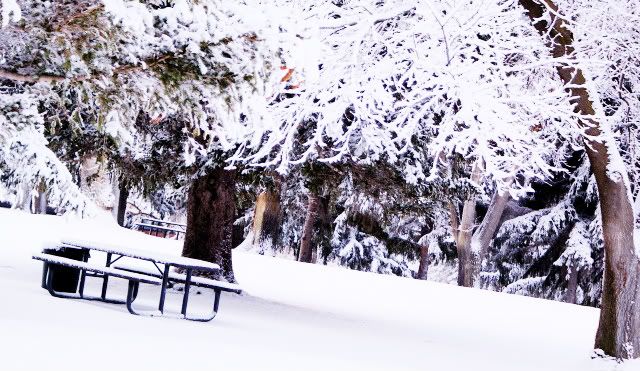 Welcome to my world this week
It looks like this outside
Brrrr - I've just can't seem to get warm
but I gotta admit - it is beautiful . . .
Everyone once in a while I just have to borrow from a friend . . .
I loved these words, just wanted to share . . .
My friend writes . . . I have a flat top stove that is really hard to keep clean. In fact, in the 8 ½ years that I've lived here, my stove has never been completely clean. I wipe it off and scrub at it for as long as I can stand to, but it continues to build up black rings of crud around each burner. Recently, my sister got me going on a routine in which I'm supposed to spend just 5 minutes twice a day working on a "Hot Spot," an area of my home where clutter collects. As I was marveling at how much I could get done when I was racing against that 5 minute timer, I glanced at my stove and wondered how much of that burned on crud I could get off if I concentrated on it for just 5 minutes. Using muscle and a scouring pad, I got about 3 inches of one of the black rings off. It was such a little bit, but it was progress. I decided to keep at it, and after a couple of weeks, just a little bit at a time but about 1 ½ hours combined, my stove was completely clean!! I would never, never, never spend 1 ½ hours scrubbing my stove. But 5 minutes I could do. Just 5 minutes works miracles!

It's the little things we do: 5 minutes scrubbing at a stove; a phone call to the ladies we visit teach; a smile and a moment to say hello; a few minutes to ask about someone's children; a little bit of time helping with humanitarian needs. It's the little things we do that, when combined, make such a big difference and unite us.
How did you know that's just what I needed?
Yep, that's what I think too - it's the little things . . .