I had a few minutes and thought I'd share just a little about what's going on in my life this week.

Grrrr . . .
Wake up Tuesday morning and "ACER" desktop doesn't turn on. Clickety click - goes the switch, but nothing happens. Well I'm actually pretty handy with a computer, so I troubleshoot all the power cords, the plugs . . . DARN, it's not going to be THAT easy.
So out comes the screwdrivers and I open up the case, disconnect the switch, yep - the switch works perfectly. Must be the power supply - still no power.
Well, I haven't had a computer repaired in years - but I see the cute little GEEK SQUAD guys driving around and I give them a call. I have to bring it in if it likely needs a new part. So off ACER goes to be overhauled by the GEEK SQUAD. And by the way - they are located in BestBuy and I just got the giggles all over them. They totally remind me of my favorite TV show "Chuck". AGENT Jensen (dressed in his white short sleeve shirt, black geeky narrow tie, complete with Geeky tie tack) assured me ACER would be fixed up good as new. In fact at 11:30 pm I received a GEEKY email saying ACER was good to go. (Do they really expect anyone to show up at 11:30pm to pick up a computer?)
Perhaps I would have stumbled upon some kind of "Chuckish" secret covert mission :)
Next day - picked up ACER, brought it home, plugged it in. And the good news is that it does indeed turn on. But nothing after that! No little programs loading, no voice pronouncing "You've Got Mail" - nothing. Good grief! Do they check things out before they call to tell you to pick it up? So back to the GEEK SQUAD ACER goes again tomorrow. Thank goodness for my friend MAC who is keeping things running around here!
Next story:
I finally picked up my book for bookgroup next week . . .
"The Twentieth Wife"
by Indu Sundaresan, along with a whole stack of discounted summer reading books from Barnes & Noble.
I can never go into a bookstore and pick just one!
"The Twentieth Wife"
takes place against the backdrop of 16th and 17th century India. As a child Mehrunnisa falls in love with the heir apparent - Prince Salim. After much turmoil she finally becomes the savvy and powerful empress. The story is sweeping and romantic and based on real characters. A very captivating history lesson! The book portrays a wealth of details into the life of the Royal Harem who lead a very cloistered life, never seeing or being seen by any other males other than the king. Mehrunnisa breaks all the established customs of the time and at the age of 34 (when women were discarded as old and useless) managed to capture the King's fancy to the extent that he married her as his twentieth wife.



(Reading fast . . . gotta finish this one
in 8 days!)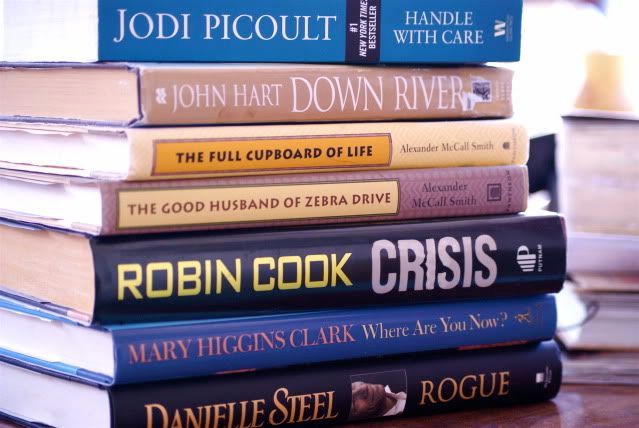 What's on your summer reading list - have you started your pile?