It's another quilt.
I am in love with this project!
It's just like me to wait until two weeks before the wedding to start making a quilt!
Even if I didn't have Christmas shopping to do, presents to wrap, a tree to decorate, and a house to adorn, I'd still probably procrastinate the "wedding" quilt. It's just like me to keep putting it off.
I've said before, "I'm not a quilter!". But I'm starting to think that maybe I could be.
What I really need to do, is make a quilt when I'm not under duress. I've always got some looming time limit, and feeling all in a rush and in a panic that I'm not going to get it done on time.
But here it is - and isn't it stinkin' cute!
The fabrics turned out so darling together, I'm loving each and every block I get sewn together.
This is another
'Buggy Barn'
quilt. They really are so much fun. This one is a little bit trickier to make, it has taxed my limited quilting and sewing skills to the max. The first block took me like two hours to figure out, but now that I'm on the 10th one, I've got it down to about 35 minutes a block.
So I guess you could say it's coming along - big smile!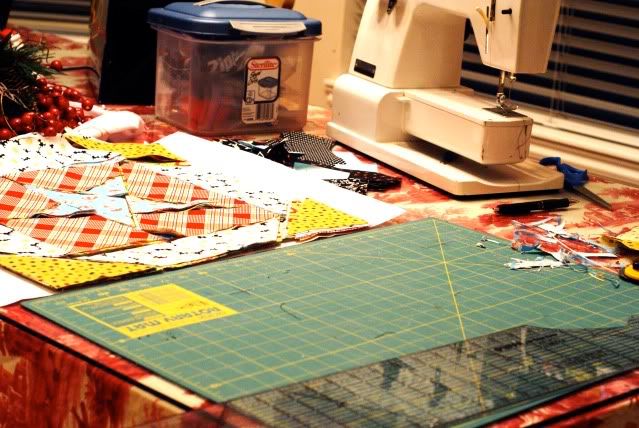 With the Buggy Barn quilts you cut out all the pieces with the roller cutter and stack them on your pattern to keep all the pieces in order and together. You rotate some of the top fabrics to the bottom so you get a multi patterned block.
You sew each block together in sections - then join up the whole thing.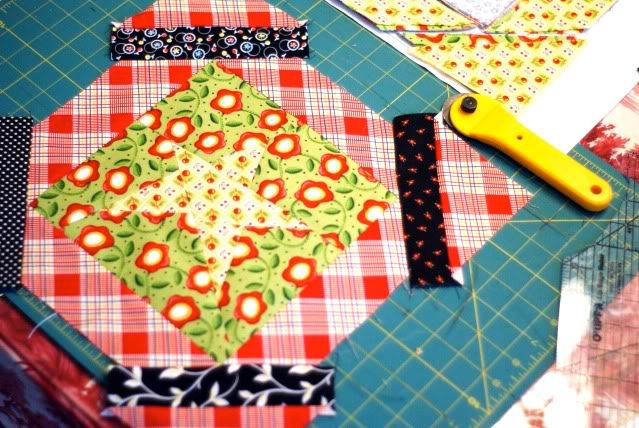 Each block is a little bit different! So far this one is my favorite. The colors are so darling. I'm just getting ready to trim the corners so it will be a 13" square.
When you put all the blocks together, the black fabrics form a diamond pattern in each corner. Soooo cute!
I'll have to share more pictures as it comes along.
(Now if I can just find some time to get some presents wrapped . . . )