I love my community.
Even though it gets closer and closer to the city (or maybe the city is coming closer and closer to us . . .) we still see so much wildlife in our community. Many people here think the deer are annoying. Not me. I practically beg them to come eat from my garden in the summer time. I have 7 unfenced fruit trees. But they seldom come steal fruit from MY trees.
They do pass through my yard, I can tell from the evidence they leave behind. I think perhaps it's my dogs that keep them away. I don't know what else it could be. Mostly my dogs are in the house, and always in the house at night. But the deer still don't come take my offerings . . .
While my very next door neighbor, who has two outdoor dogs, loses foliage, and her flowers to the deer
all the time.
It's very strange . . .
But I digress actually -
I really wanted to share these photos I took recently of the elk herd that travels back and forth in this area. About 6 years ago they were visible from the highway and I watched for them everyday. They were MY elk herd. I watched them constantly and delighted in seeing them so nearby.
Every winter thereafter, I would watch for them to appear in the fields off the highway or for evidence that they had passed through. And every year for 6 years there was no sign of them. Until finally, one bright sunny morning, early, about 7:30 am, I was on my way home from work in Salt Lake after a huge blizzard snow storm; and there they were in the field off the highway.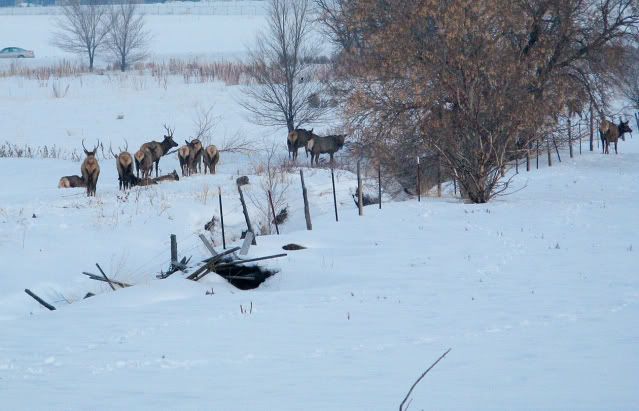 They were so gorgeous! A herd of about 25 elk was trying to cross the highway. Unlike deer who dash helter skelter across the highway, and frequently into oncoming traffic; one leader figure stood on the edge of the highway. He almost appeared to be waiting for the cars to notice him. And notice him they did. Gradually the traffic stopped in both directions. Only then did he step out boldly into the road and ventured across. The approximate 25 others, some with grand racks of antlers atop their heads, some without, filed behind in a single column until all were safely across the highway. No stampede, no mad dash, no helter skelter unorganized herd were they. Just beautiful . . .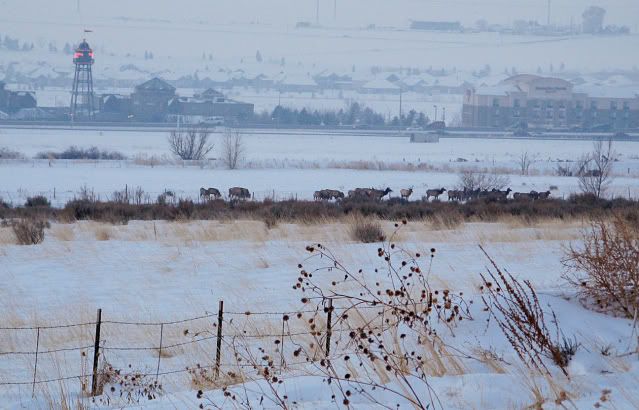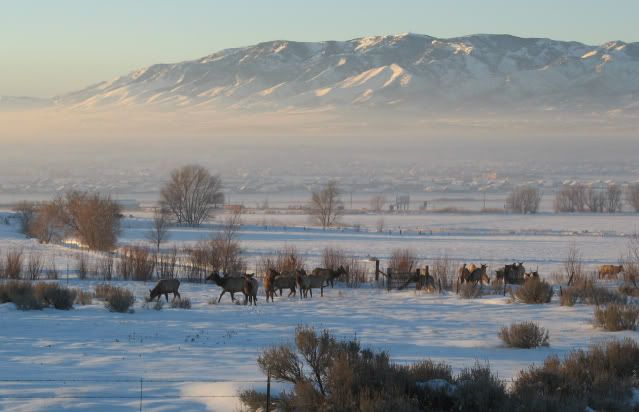 I was practically standing on top of my car trying to get photos. For about a week they appeared in the fields of the foothills and I watched for them everyday. And then sadly, once again they were gone.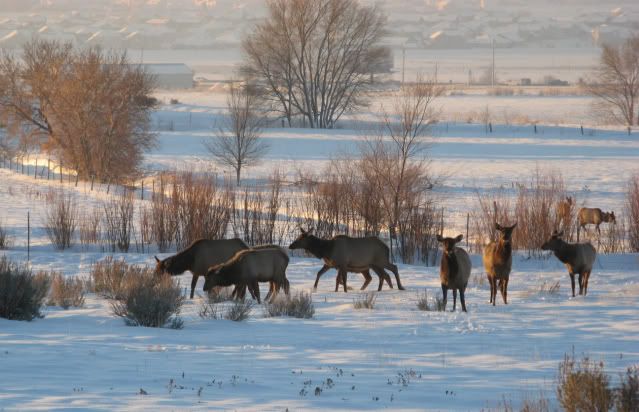 I hope I get to see them again someday.